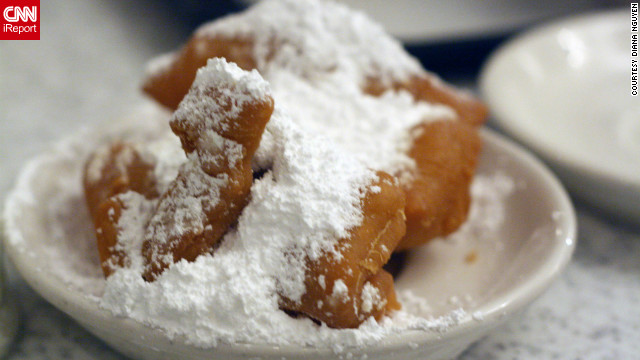 We asked CNN readers to share their picks for New Orleans' best dishes. "Without fail, I go to New Orleans for two things: oysters and beignets," said Diana Nguyen, who lives in the Chicago suburbs.
"Don't get me wrong," Nguyen said. "I love étouffée, gumbo, po' boys, muffuletta, but I gotta have my oysters and beignets."
Lulis Leal is also a fan of oysters and the French-style doughnuts. "Felix's is my absolute favorite oyster bar," said Leal, who lives in New York. Whether raw, chargrilled or fried, "Felix's oysters are some of the best you'll ever have."
"Café du Monde is usually crowded and noisy and there's usually a wait, but their coffee and beignets are the best anywhere," Leal said. One tip: "Be careful not to put your elbows on the table as they are usually covered in powdered sugar."
"They don't serve alligator in Wisconsin," wrote Abby G., an iReporter from Green Bay. "We had the alligator bites from Cajun Cabin and had to go back for seconds before we left!"
Marissa Turner, of Prairieville, Louisiana, recommends Val's Marina, which is about an hour from the New Orleans airport. "It's worth the drive to taste South Louisiana homestyle cooking -- without the pretension of the big city."
iReporter Colleen Levitt of Royal Oak, Michigan, says the shrimp and grits at Surrey's Café & Juice Bar are the best in New Orleans.
During a recent trip to New Orleans, Dianne Vehlow ate her second meal at K-Paul's, where she took this photo of the chefs at work. She raves about the blackened beef tenders with debris sauce. "You may be wondering about the 'debris' sauce; yes they use the pan drippings in it."
"The jumbo sea scallops at Commander's Palace are to die for!" wrote iReporter Sonia Garza of Pasadena, Texas.
"This is what I ate in lieu of a cake for my 35th birthday dinner, and it was one of the greatest desserts I've ever eaten -- and I'm a sweetsaholic," said Lynn Chen of Los Angeles. It's a sundae topped with bacon caramel sauce and Applewood bacon.
Former New Orleans resident Diane Boyea misses the food, especially bananas Foster from Brennan's. "The bright yellow, sweet bananas are sautéed in butter and brown sugar then flambéed with rum."
John Zoeckler and his wife enjoy eating at the Palace Cafe when they visit New Orleans from Diamond Bar, California. "Their bread pudding with white chocolate sauce is worth the entire trip in our opinion."
"New Orleans pralines (praw-LEENS) are to the South what maple candy is to the North, a sweet to celebrate the local plenty," said Lulis Leal.
The Central Grocery is home to the famous muffuletta sandwich, a must according to several iReporters.
"It might sound funny, but the very best meal I had in New Orleans was a sandwich. A Cuban sandwich" from Cochon Butcher, said iReporter Melinda Green Harvey of Lubbock, Texas.
"You're going to discover a VAST array of dishes in New Orleans and all of them are wonderful and MOST of them will either be for dinner or lunch. So, rather than dwell on the obvious, let's talk BREAKFAST for a minute," wrote Edward Slonaker of Corpus Christi, Texas. He heartily recommends the Breaux Bridge benedict at The Stanley on the corner of Jackson Square.
Beignets, Café du Monde
Oysters
Oysters, Felix's Oyster Bar
Café du Monde
Alligator bites, Cajun Cabin
Shrimp and crab stew, Val's Marina
Shrimp and grits, Surrey's Café & Juice Bar
K-Paul's
Sea scallops, Commander's Palace
Bacon sundae, Green Goddess
Bananas Foster, Brennan's
Palace Cafe
Pralines, Southern Candymakers
Central Grocery
Cuban, Cochon Butcher
Breaux Bridge benedict, The Stanley
STORY HIGHLIGHTS
Oysters every which way rank high with New Orleans visitors
Standards such as Café du Monde's beignets are still favorites
For an excellent burger, head to Port of Call, says one iReporter
(CNN) -- Fat Tuesday is rolling up fast, so we asked for your recommendations for New Orleans' very best dishes.
"Excess is the new moderation," one iReporter proclaimed. Debatable, but not a bad mantra for a trip to diner's paradise. If you're not hungry now, you will be.
Oysters every which way
Tucked into a baguette, charbroiled, fried, smothered in butter and cheese, sprinkled with bacon or just slurped right out of the shell, oysters turn up in many a New Orleans memory.
The charbroiled variety from Drago's made a big impression on Heather Ackerly, a South Louisiana transplant. "The rich butter and garlic mixed with the fresh saltwater taste of the oyster is heaven. And before you know it -- the oysters are gone. But that wonderful butter and herb sauce remains, waiting for you to soak it up with the French bread."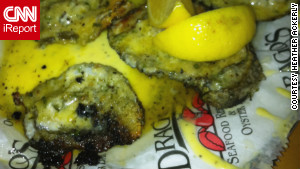 "That first bite of a fresh Gulf oyster is one to savor," said Heather Ackerly about Drago's charbroiled oysters.
Felix's Oyster Bar gets iReporter Lulis Leal's vote. "Whether served ice cold on the half shell, chargrilled and sizzling in garlic butter or fried to golden perfection, Felix's oysters are some of the best you'll ever have," Leal said.
Eatocracy: What NOT to do during Mardi Gras
There's nothing better than the standard oyster po' boy, "dressed, lots of Crystal," said Judy Pfau Hull of Rochester, New York. She likes Domilise's, Tracey's, Franky & Johnny's and Central Grocery for sandwiches.
"The wonderful thing about New Orleans cuisine is it really doesn't matter if you have $100 to spend or $10, you can always get something truly special," she said.
Local Ed Killeen goes just blocks from his home in Old Metairie to Zeke's for the "most stupendously crisp and fresh oyster po' boys!"
A proper po' boy requires lightly toasted French bread, real butter, crisp lettuce and pickles, thin-sliced tomato and "most of all, freshly fried oysters," Killeen wrote in his iReport.
Mardi Gras beyond bare breasts
A sandwich known 'round the world
Po' boys aren't the only world-famous sandwiches to come out of the Crescent City. The Central Grocery on Decatur Street is widely touted as the source of the original muffuletta, a sandwich of layered Italian meats, cheeses and olive salad on a flat round loaf of muffuletta bread. The sandwich has been replicated and interpreted, but Leal calls the Central Grocery's sandwich "definitive."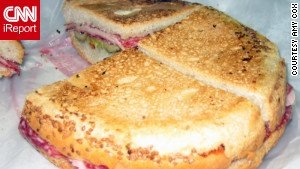 A muffuletta from Central Grocery is a New Orleans must.
"Yes, other restaurants now make fatter ones on artisan breads with more exotic cold cuts and fancier ingredients in the olive salad, but Central Market's muffuletta has a classic dignity that simply cannot be bettered," she said.
Eatocracy: Lick-the-screen muffuletta
Steven Wolfe of Houston urges diners to order a whole sandwich to stave off regrets. "No other sandwich is so perfectly designed for proportion, texture and combination of tastes."
He's a fan of really communing with the muffuletta, so he suggests taking it back to your hotel room, "where you can have a private experience with the sandwich, away from the eyes of strangers," he wrote on iReport.com. Recline after you dine.
"By the time you're ready to walk around, cocktail hour should be creeping up on the Quarter. A cold Abita and a few oysters sounds lovely. Give in," Wolfe advised.
Eatocracy: What we ate in New Orleans
More fruits of the sea
Kristen Hendrix had an unforgettable taste of her husband's crab cake pasta at Oceana Grill. "It was so rich and creamy, just the right amount of seafood flavor to it," she said.
"We have tried to replicate it at home with no success so far," said Hendrix, who lives in Charleston, Illinois.
The alligator sausage cheesecake appetizer at Jacques-Imo's received two iReporter endorsements. Richard Senger of The Woodlands, Texas, called it "inexplicable."
Mariel Metzenthin of Overland Park, Kansas, went for it with this description: "The look on everyone's face at the table was the same, 'Damn!' -- eyes wide, mouths full and forks going in for seconds. The texture was smoother than a quiche, yet not as rich as the traditional cheesecake and the alligator sausage gave the right amount of bite."
When he's in New Orleans, former Louisiana resident Anthony DiFatta always stops at Coop's Place for the cajun pasta, a spicy creamy dish featuring crawfish, oysters, shrimp, artichoke hearts, mushrooms and cajun Tasso ham. He calls this "little dive" of a restaurant the city's best-kept secret.
For true home cooking, Marissa Turner recommends Val's Marina in Maurepas, Louisiana, about an hour's drive from the New Orleans airport. "I make the drive to Val's Marina because it feels like having dinner at my momma's house. And that's saying something," said Turner, who lives in Prairieville, Louisiana.
New Orleans: The food that got them through
A cloud of powdered sugar
What's not to love about fried things doused in powdered sugar? The famous Café du Monde, established in 1862, popped up several times among iReport contributors. Beignets, French-style square doughnuts, are the main attraction, but coffee mixed with chicory is a natural complement.
"Don't get me wrong, I love étouffée, gumbo, po' boys, muffuletta, but I gotta have my oysters and beignets," said Diana Nguyen, who lives in the Chicago suburbs.
More sweet treats
For a more unusual, sucré salé treat, head to Green Goddess. "The standout, not-to-be-missed creation I'm crazy about is the bacon sundae," said Lynn Chen of Los Angeles. She tucked into this concoction -- pecan praline ice cream drizzled with bacon caramel sauce, topped with Applewood bacon and whipped cream -- instead of cake on her 35th birthday.
And of course bananas Foster, bread pudding and pralines are well-loved New Orleans standards. See the gallery above for recommendations on where to indulge in those.
Breaking away from the local standards
When you've had more oysters, crawfish and beignets than you can bear, veer away from tradition and make new ones. The dining scene in New Orleans is always evolving with fresh twists on the classics and totally original dishes.
"Now really, about all you have to do is walk or drive down the street until you see an eatery. Go inside and 99.9% of the time you will be delighted!" wrote former New Orleans resident Duane Putnam.
Eatocracy: The great gumbo debate
Very fine eateries rub shoulders with casual favorites. Port of Call has earned hearty praise from Sharon Curole, who first encountered this hole-in-the-wall bar's tremendous burger with baked potato before her wedding in December 1995. "Every year since, my husband Chris and I make sure we get down to New Orleans to enjoy it again."
"Get it loaded or 'dressed,' as they say in NOLA," said Curole, who lives in Manchester, New Hampshire.
Melinda Green Harvey of Lubbock, Texas, offered another rave for a well-loved sandwich: the Cuban. She found a very tasty version at Cochon Butcher, a hybrid sandwich shop, butcher and wine bar.
"I get it. People go to New Orleans for gumbo, or red beans, or beignets. But when you get tired of that and just want something simple and delicious, head to Cochon Butcher."